Roxanne in Winter Wonderland
Adventures in the Alps
Roxanne from @thechoniclesofwander
Roxanne is an Australian expat living in Seville. But Roxanne is so much more than that, she is also a keen traveller who, from Tokyo to Ohau, not to mention Lisbon, has visited the most amazing and exciting places one can imagine.
Roxanne in Winter Wonderland
And what brought Roxanne to our beautiful Savoie Mont Blanc area? You may ask me! It's simple, talking to you about Roxanne is also talking about a friendship, a real one, between our mountain girl Alice and our favorite Aussie.
And when Roxanne arrives in Savoie, Alice has only one idea in mind: to show her the places she prefers.
Lyon
One of the most interesting cities I have visited in France to date. I loved that this city holds almost 2000 years worth of history, from the Roman period, medieval and the renaissance. It's large historic centre, Le Vieux Lyon, is a UNESCO World Heritage site and has the largest example of renaissance buildings in Europe. The city is a perfect weekend break and is extremely easy to explore. If you are in the walking mood take the climb up to La Basilique Notre Dame de Fourvière for not only a stunning basilica but also breathtaking views of the city below. Whilst you are up there checking out the basilica I would recommend exploring the remains of the Roman city of Lugdunum which happens to be a Roman theatre. My favourite experience in Lyon was discovering the traboules. These are passageways that date back to the renaissance period and allowed habitants shortcuts through the city. There are several open to the public for you to live out your own renaissance dreams, just remember that people do live here so be respectful. For lunch I stopped at Le Laurencin and had a delicious Saucisson de Lyon brioché which is cooked sausage in a brioche, it was so yummy.
Annecy
One of the most well known towns in this area of France, Annecy is truly a gem. The city lies at the base of Lake Annecy and is one of the most picture perfect towns I have ever seen. Wandering around the Old Town felt like I had stepped back in time with its cobblestone streets, pastel buildings and winding canals. Because I visited in winter I got to experience the christmas markets and warm up with some delicious mulled wine and tartiflette. One of the things I wanted to see most when I organised this trip was falling snow…and my wish was granted. Growing up in Australia the chances of seeing falling snow, or just snow in general, are not the highest. But seeing it in Annecy, fluttering around and sprinkling the buildings made the trip very memorable.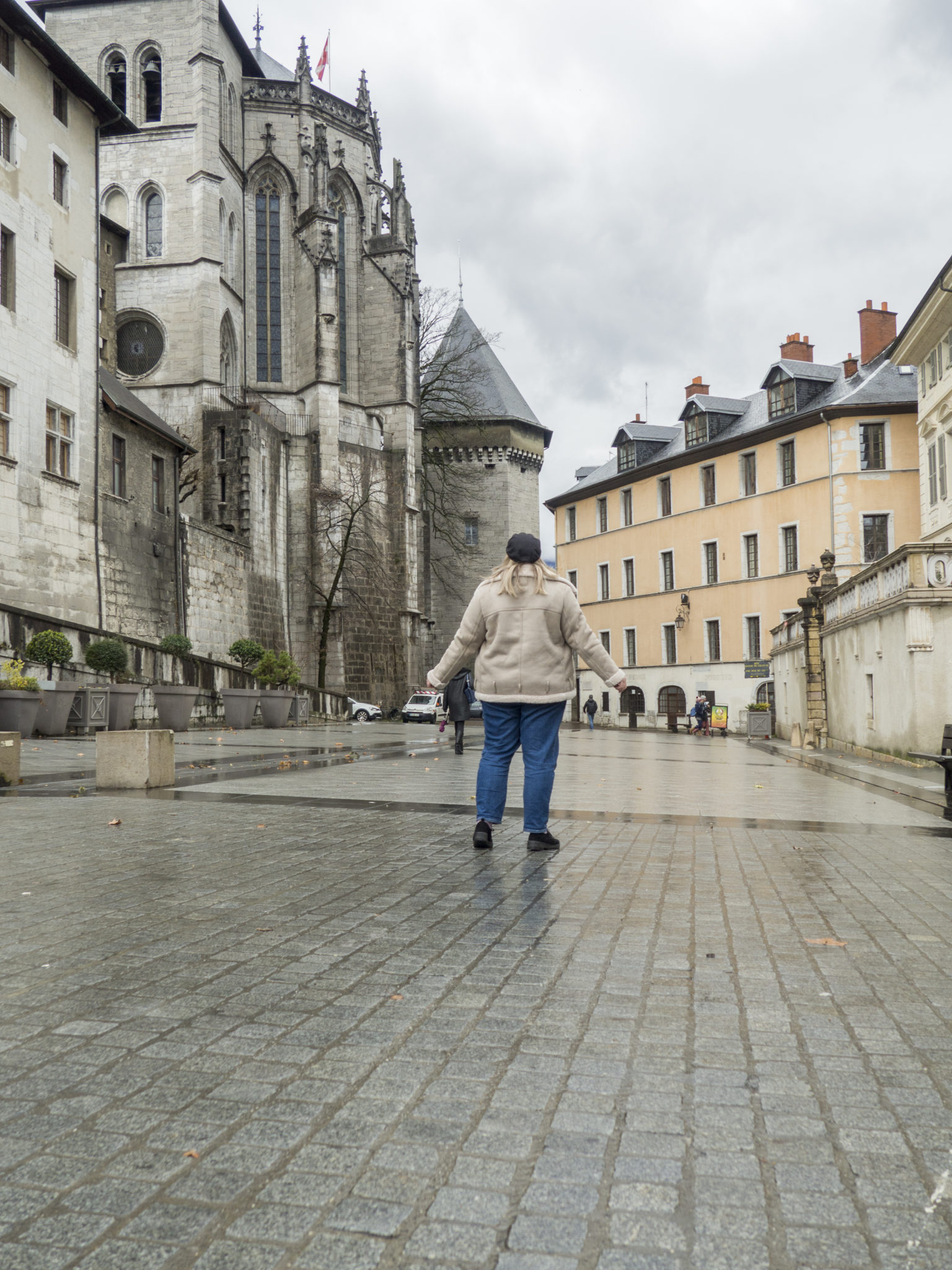 Chambéry
Like Annecy, Chambéry has a certain fairytale atmosphere to it. It is famous for its long history,was once the capital of its own sovereign state and was the seat of the Dukes of Savoy. Now Chambéry is a popular university town, and I'm wishing that my university town had looked even half as pretty as Chambéry. I loved exploring the Old Town, walking through all the little alleyways, getting lost, seeing the impressive former castle of the Dukes of Savoy and spotting the famous Fountain of Elephants. One of my favourite finds whilst in Chambéry was a pastry shop called Ernest Pâtisserie & Café. I had a delicious milk chocolate tart with hazelnuts and an equally tasty coffee to wash it down. I am always on the hunt for a good dessert and Chambéry knocked it out of the park.
Aix-les-Bains
Aix-les-Bains is where I based myself from for this trip and I was lucky enough to have my wonderful friend Alice as my host. Its location made getting around to see all the other cities so easy, as it has a train station that easily links you to many destinations and is easy driving distance as well. I was blown away by the breathtaking views of the snow capped mountains you can see from pretty much anywhere in the city, and I was even fortunate enough to visit one of said snow capped peaks. The drive up to Mont Revard was a slightly hair raising experience, but well worth it. It was truly the winter wonderland experience I had been dreaming off and we were fortunate enough to have such clear skies that you could see all the way to famous Mont Blanc. If you are into skiing or snowboarding then Aix-les-Bains is the perfect place to base yourself for you holiday, as I am terminally clumsy and walking is sometimes a challenge so I decided it was safer for the public and myself if I skipped that experience. Other activities you can indulge in are a spa visit, the town is well known for its thermal waters, and lakeside activities on the gorgeous Lake Bourge.
The best of the best of the Alps Experience